Safely dispose of expired or unused prescription or over-the-counter drugs.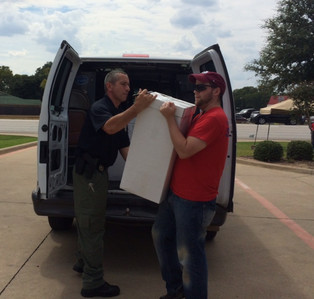 Permanent Drop Box
To dispose of expired or excess prescription or OTC drugs, please visit the permanent drop box location inside the Midlothian Police Department lobby. You may empty multiple bottles into a single Ziploc bag. Please, no sharps or inhalers! For a list of permanent drop boxes in other North Texas locations, please visit the Prevention Resource Center for Region 3.
DEA Take-Back Events
Take-back events are held twice per year in Spring and Fall to collect expired or unused prescription or OTC medications. Bring them to any of the Ellis County free, drive-through drop-off locations. Police departments from respective cities will be on site during collection hours. Then all drugs collected will be picked up by Ellis County Sheriff Deputies and transported to the Dallas DEA field office for immediate incineration.
Boxes are sealed on site and never re-opened; therefore, your identity is completely protected. There is no need to empty pills into bags, peel labels off bottles, or even mark out your information. Everything goes directly into the disposal box at the time it is dropped off. Staff will not be sorting or reading labels. The only items that we cannot accept are syringes (needles) or inhalers. Liquids are accepted. If you have any further questions about the take-back program, please contact Tom Kowatch, Coalition Coordinator.
To learn more about properly disposing of drugs in the Johnson County, Texas area, please contact us at ​REACH Council.